Wall-hanging bookshelves are ideal when you want to bring a charming look to your room and also display your favorite books and magazines with ease. Wall bookshelves are designed to be mounted on the wall, thus freeing up floor space for easy organization. 
In this review, we have compiled the 10 unique wall-hanging bookshelf designs that not only add an attractive style to your home but are customizable to fit your needs. Keep reading to find out the best shelves that have additional features such as drawers, cabinets, and many more.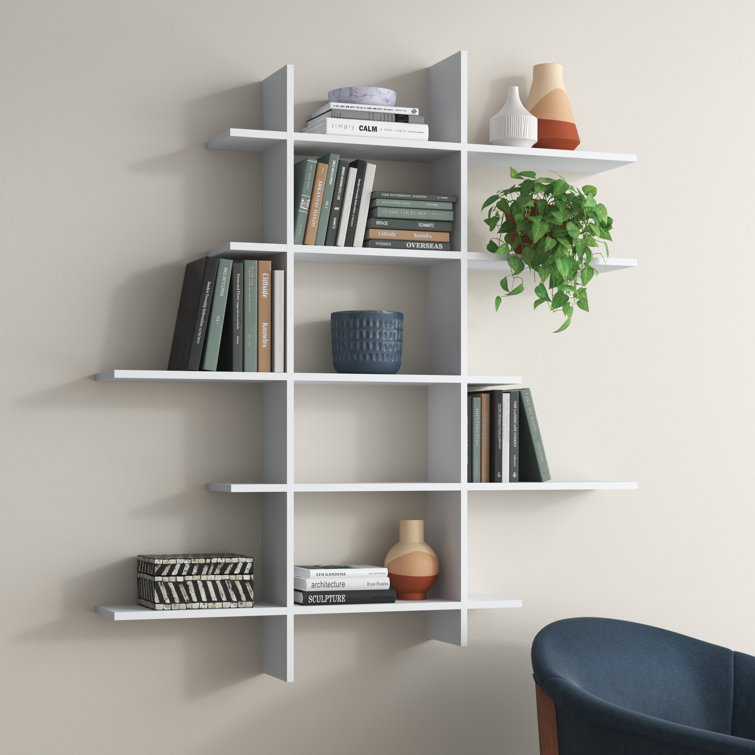 Are you looking for a wall bookshelf that is lightweight, space-saving, that will complement well with the color of your home? This shelf is ideal for you. It gives you both organization of your items and elegance style without taking up much square footage.
The shelf measures 51" tall and 45" wide and has five shelves that are perfect to showcase your favorite books, plants, or anything you would like to display. It's made from manufactured wood that is very sturdy to even support heavy books without falling. However, you will need to tighten it very well on the wall to make sure it does not fall and cause damage.
Overall, the white wall bookshelf brings an open, asymmetric modern design that brings a charming look to your bedroom, kitchen, or anywhere you mount the bookshelf. It is easy to assemble, and the finish comes in white, black, or weathered oak to choose from.  The wall-hanging bookshelf has 5 tiers, and it takes small space compared with traditional shelves. 
Special Features and Specifications
Color: White, Black, and weathered oak
Dimensions:51" H X 45" L
 Each shelf weight capacity: 6lb
Installation: Anchor+ Screw
Material: Manufactured wood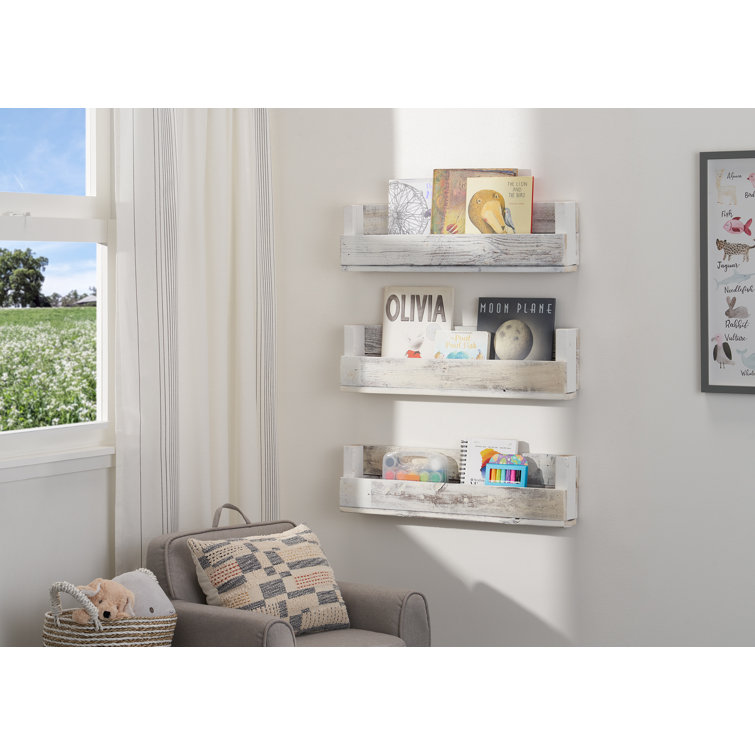 Keep things off the floor and organize the coloring books, and fables of your little one with this beautiful and stylish bookshelf. Perfectly designed to be mounted on the wall and the finish brings to your kid's bedroom the rustic appeal feel of a modern house-inspired style.
The bookshelf is sturdy because it is made from veneers which makes it hold a lot of books, toys, family photos, and other items without breaking. The length and depth measure 28" and 4" respectively, which is ideal to accommodate a lot of items. On the other side, you should mount and tighten the screw on the wall to make sure the bookshelf does not fall and cause any damage.
Overall, the bookshelf helps you organize and save space in your nursery room. It is easy to assemble and comes with all hardware to mount on the wall. The finish looks beautiful and will blend and style in your kid's room.  
Special Features and Specifications
Dimensions:8" H X 28" W X 4" D
Shelf:25" W X 2.5" D
Product weight: 14 lb
Material: Solid wood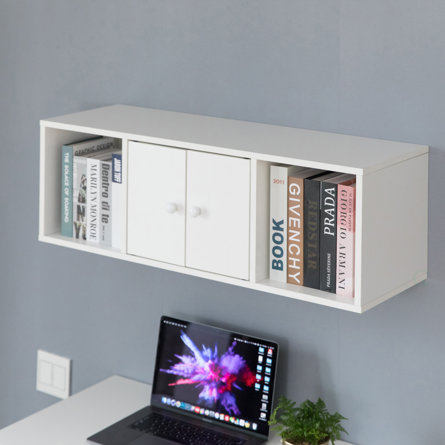 This cubby wall-mounted computer cabinet comes with two open compartments and a cabinet in the center. You can use the two open shelves to store your books, and the cabinet to hide your files.  As such, this cabinet can be used as a stand-alone storage system which is very suitable for bedrooms and study rooms. 
The cabinet computer is easy to customize the height, as such you can customize it to the desired height and use it as a desk. Plus, you can use the top board to add a charming look by displaying layout decor such as plants, and flamed photos, or as a floating hunch to keep your items handy.
Overall, the wall-mounted bookshelf with doors is easy to assemble and comes with two color choices that are blue and white. Perfectly designed to fit in your bedroom shelf cabinet or stand 
Special Features and Specifications
Overall Dimensions: 12.75" H X 35.5" W X11.75" D
Shelf:11" D X 9.75" W
Color: White or Blue
Number of Shelvesshelves: 2
Number of cabinets:1
If you want a neat way to display your favorite books but don't like the traditional bookshelf or have limited space, then these shelves will be perfect for you.
Storage maniac is a unique wall-mounted invisible bookshelf with heavy metal shelves that will automatically help you to organize your books. Very easy to mount on the wall and when you display your books the shelf becomes hidden and the books seem to look like they are floating on the wall. The metal steel is strong and durable and will support up to 15lbs of your books 
Perfectly designed to help you utilize empty walls because the shelves are not that large. What's more, you can use the storage maniac in your kid's room to display toys and organize books. Or in the living room and add a charming feel by displaying plants, art or perhaps organizing your DVDs. 
Features and Specifications
Very easy to mount on the wall
Product dimensions: 4.59″D x 6.42″ W x 4.92″H
Number of Shelvesshelves: 4 backpack
Material: Metal