Small corner cabinet is an ideal pieces of furniture you use to maximize space in your home.  Not only does it optimize every inch of a corner space but provides ample storage for your items.  It is a versatile piece and the perfect solution for storing household items, organizing personal belongings, office organizers, or displaying decorative items. With its functional and sleek design, a corner cabinet will provide extra storage in your home. In this review, we have compiled a variety of unique and stylish corner cabinets that feature adjustable shelves, glass doors while being perfect for a tight space.
The accent corner cabinet features two adjustable shelves, flared legs design, and two classic doors with a nice slat design. Each shelf measures 20.75" H X 22" W and 12" D and the height of the cabinet measure 28.88 inches.
The inside shelves are spacious, well crafted from manufactured wood, and highly adjustable to organize items such as toiletries, books, towels, or any decorative items. The finish looks exquisite,  and the color espresso or white brightens up your home hence easy to clean. 
Overall, the accent cabinet takes up small space in your bathroom, kitchen, and entryway while being spacious, and very easy to assemble. Lastly, the material used is of high quality and sturdy.
Special Features and Specifications
Color options: White and espresso
Material: Engineered wood
Features two adjustable shelves 
Overall dimensions:28.88" H X 22" W X 12" D
Cabinet interior: 20.75"  H X 22" W X 12" D
Blue Ridge is a stylish corner cabinet that features 2 adjustable glass shelves, 10 pounds capacity per shelf with properly installed anchors, 1 door, cross-shaped moldings, smooth acrylic door pull, 5 removable feet, and inside dimensions measure 21.8"  X 14.87". The small corner cabinet measures 32" from the floor to the top, 17 from the front to the center back and the sides measure 7".
It easily fits in a corner room without taking up much space and the sturdy engineered wood with a white finish looks beautiful and hence long-lasting. Overall,  if you are searching for a corner cabinet in your kitchen, bathroom, or living area that provides ample storage without taking up much space- the Blue Ridge will be perfect for you. 
Special Features and Specifications
Product  dimensions:17.25″D x 24.75″W x 32″H
Color: White
Installation: Easy and all items included
Shelves: Two adjustable glass shelves 
Material: Engineered wood and metal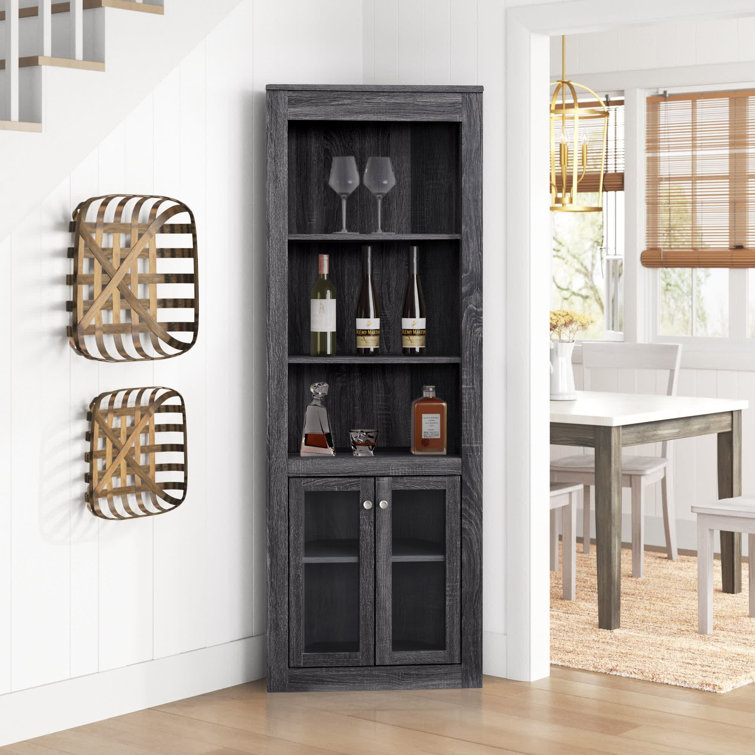 Make use of an empty corner in your living room, kitchen, and bedroom, and maximize space with versatile storage. The cabinet measures 20.05" H X 22.8 W and 13.8" which is a perfect size to fit in a tight corner while taking up a small space. 
The Corner cabinet is crafted from solid engineered wood with a neutral finish and features five fixed shelves and a lower cabinet with two glass paneled doors. The upper shelf and the lower cabinet are ideal to showcase your plants, books, kitchen accessories, and others and each shelf hold a capacity of 25-30 lbs. Furthermore, the corner cabinet is easy to assemble and the finish colors which are chocolate, mahogany, and stone gray, blend well with most colors of your home furniture.
Special Features and Specifications
Overall Dimensions:69.5" H X 13.8" D X 24.4" L
Cabinet Basin:22.0" H X 22.8" W X 13.8" D
First shelf Height:12.87″
Second Shelf height:14.37″
Third shelf height:11.10″
Frequently Asked Questions
What materials are small corner cabinets used?
There are varieties of material corner cabinets made including manufactured wood, glass, metal, or laminate.
How much space do small corner cabinets take up?
The space a corner cabinet takes varies, but they are designed to fit well in a small room, or tight spaces hence corner cabinets are ideal for limited floor space.
Can small cabinets be used in any room?
Yes, a small cabinet can be used in any room where extra storage is needed, including the kitchen, living room, bedroom, or even bathrooms.
Is it difficult to assemble or install a corner cabinet?
It depends on the model, how handy you are, and how clear the instructions are, but some models come with pre-assembled components for an easier installation process.
Are small corner cabinets durable?
Yes, if made from manufactured wood, metal, and glass and properly cared for, a small corner cabinet can be durable and long-lasting.
Can small corner cabinets be used to store heavy items?
It depends on the construction material and specific design of the cabinet, so it is advisable to check the weight capacity before storing heavy items.
Are small corner cabinets customizable?
Some cabinets may be customizable to blend well with the existing décor of your home, so check with the manufacturer for customizable options if included.