There are countless bookshelves designs in the market today. Some are traditional that sit on the floor, others maximize space in your corner space. While others are mounted on the wall.  For you to decide the best bookshelf for your room there are factors you consider. Such as the build material, functionality,  and the number of shelves.
Round bookshelf comes with a clean and unique design, and high-quality material is used and takes up a small space in your room. We have compiled the best round bookshelf that not only fits in a small space but has a good-looking design.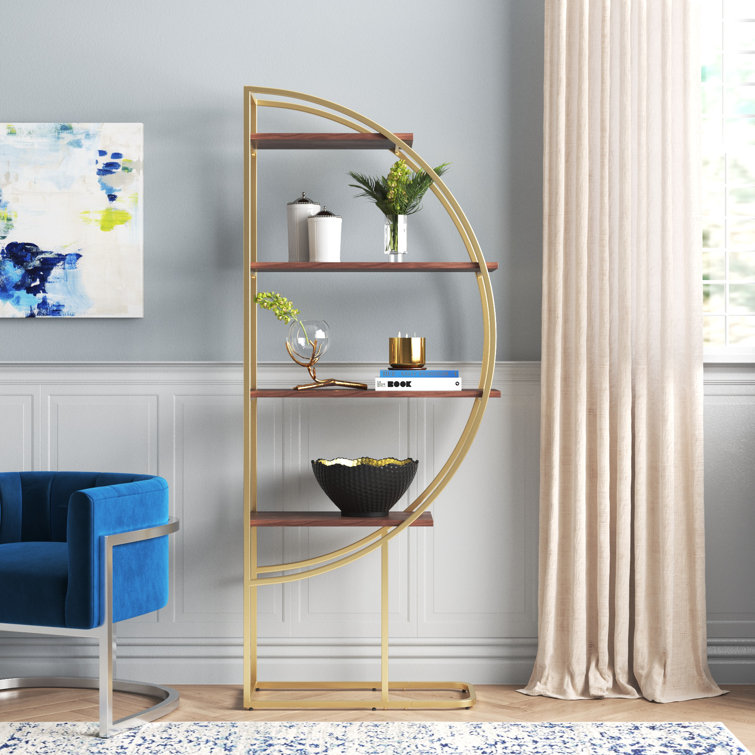 Showcase all your decor items and treasuries in a modern style on this metal half-moon bookshelf. It boasts a natural wood finish with a chic county and gold finish for a more charming look in your home. Comes with five open shelves where the top and bottom measure 23.3" W X 11.7 D" while the two middle measure 31.5" W X11.7 " D. The shelves are framed with a reliable and durable metal frame and each support up to 15-20 lbs. 
Overall the half moon with five fixed shelves looks modern, the metal frame makes shelves reliable to support all your belongings at ease. And lastly, the natural wood shelves with gold finish complete a feel of county chic in your living room, bedroom or anywhere you place it. 
Special Features and Specifications 
Overall dimensions:15.5" W" X 13.5" D X 76" H
Material: Wood, metal frame with gold finish
 Number of shelves: 5
Top and bottom shelves:23.3" W X 11.7 D" 
Middle Shelf:31.5" W X11.7 " D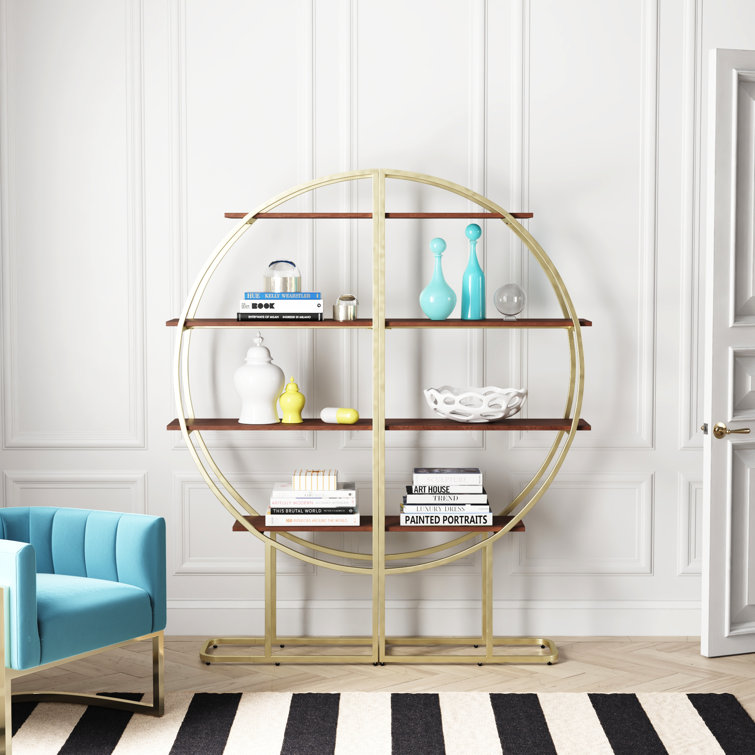 A luxurious bookshelf that boasts a modern geometric look,  a smooth gold finish, and an eye-catching full-moon design. It comes with four open shelves with rich brown color that invites a colorful tone to your home. A strong steel support frame with a sizable base that lies on the floor to ffers extra stability and durability   
Overall, the freestanding bookshelf design with a gold finish has four open shelves that allow you to showcase all your favorite books, small plants, and other decor items.  The color gold is a charm and adds a subtle touch of glam to your home. The natural wood shelves are of high quality and water resistant. And lastly, the bookshelf is easy to put together and the wall anchor device is included. 
Special Features and Specifications
Overall dimensions: 76" H X 31.5" W X 13.5" D
Shelves:11.7" D X 14.9" H
Shelf- Top and bottom shelves: 22.3" W
Shelf- Second and third:31.4" W
Comes with 4 open shelves to display your items
Half-moon or full-moon design for an eye-catching appeal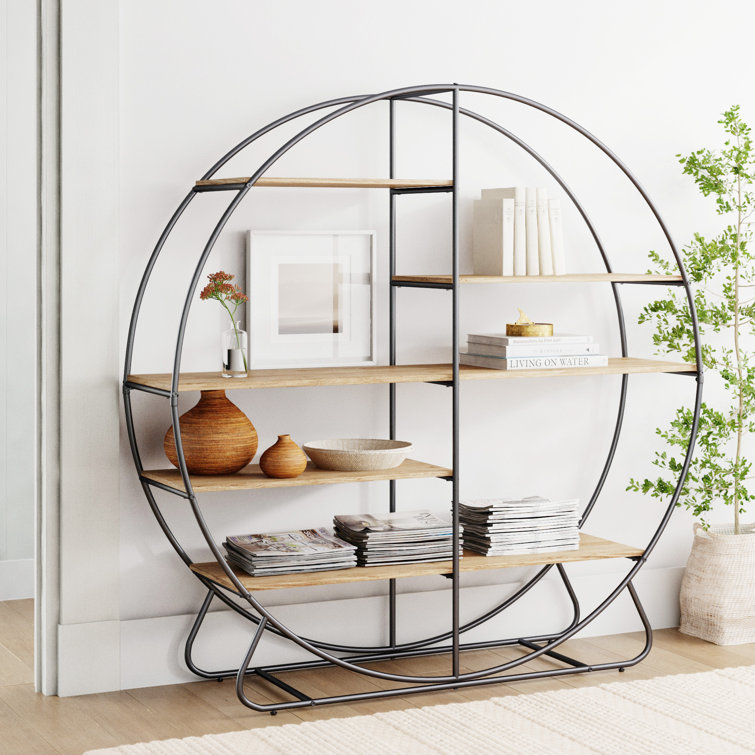 A large round bookshelf that boasts a clean mix of material designs for a breezy coastal farmhouse feels in your bedroom or living room. It is built with a strong steel frame and features a circular design with a sled-style base for easy weight distribution and stability,  even for uneven floors. It has five open tiers of shelves made from smooth visible wood that adds natural beauty to the piece. Plus each shelf has a spacious distance to allow you to spotlight all your favorite books, potted plants, or decor.
Overall,  the freestanding bookshelf is easy to assemble, and very stable when you secure it on the wall. Boast heavy steel frame with a unique circular design. Very spacious and wide, to even accommodate large potted plants or wide books. 
Special Features and specifications
Overall:61.75" H X 60.7" W X 15.3" D
Shelf: 13.7" D
Tipover resistance included