Brighten your room and maximize unused space with a cozy and space-saving small white bookcase. White bookcases are the ideal solution for small space rooms because they take up small space thus saving you space while bringing a charming and cozy feel to your room. They are customizable and fit perfectly in small apartments, home offices, or limited spaces. 
The white color is also known for its versatility and compatibility with many colors. As such, the white bookcases will match perfectly with the colors of your interior.
In this review, we have put together the best and most cozy small white bookcase that not only match well with most style in your room, but comes with additional features like drawers, cabinet, glass doors, and more. Keep reading to find out more.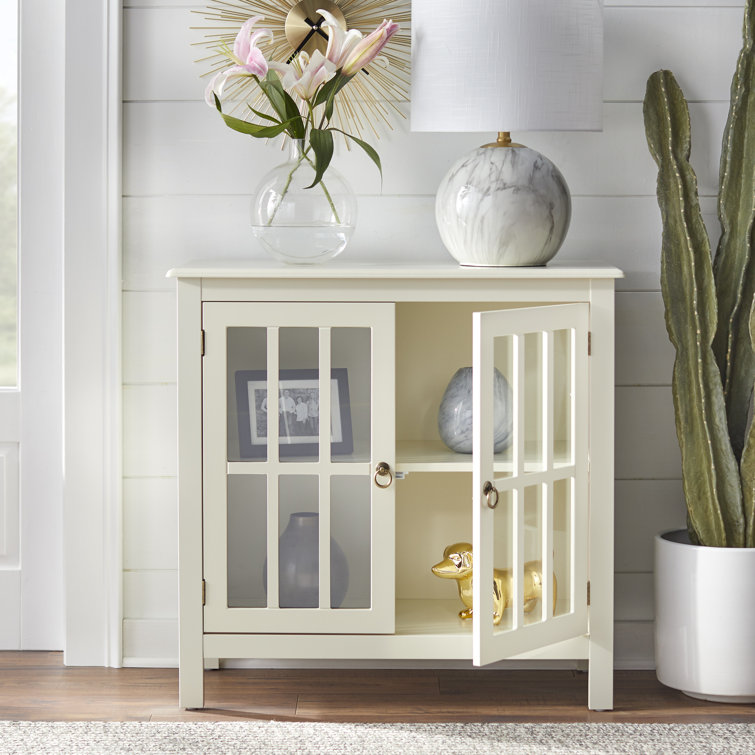 Clear away clutters and organize your room with a stylish bookcase that features two interior shelves, a strong and smooth pane doors. The shelve interior dimensions measure 23.75" H x 27.75" W x 13.3" D which is ideal to organize a lot of books.
The shelf features a clean-lined rectangle design with strong glass doors and pane doors with an elegant finish to choose from to bring a coastal feel to your home.
The small white bookcase with doors comes with a variety of finish from antique white, black blue, mint, red, and toupe which are beautiful to choose from and perfectly matches the interior of your home. 
Build with high-quality materials that are sturdy and very stable to hold a lot of books, decorations items, and others. 
Overall the bookcase with doors comes with a beautiful finish that complements well with most decor styles in your home. Has two interior shelves that are spacious and large to organize your books or display your items, perfectly designed to fit well in your bedroom, living room, or limited space. And finally crafted with strong material that supports even heavy weight without breaking.
Special Features and Specifications
Overall dimensions:31" H X 32" W X 15" D
Cabinet interior:23.75" H X 27.75" W X 13.3" D
Color: White, black, blue, mint, red, taupe
Very easy to assemble and assembly tools included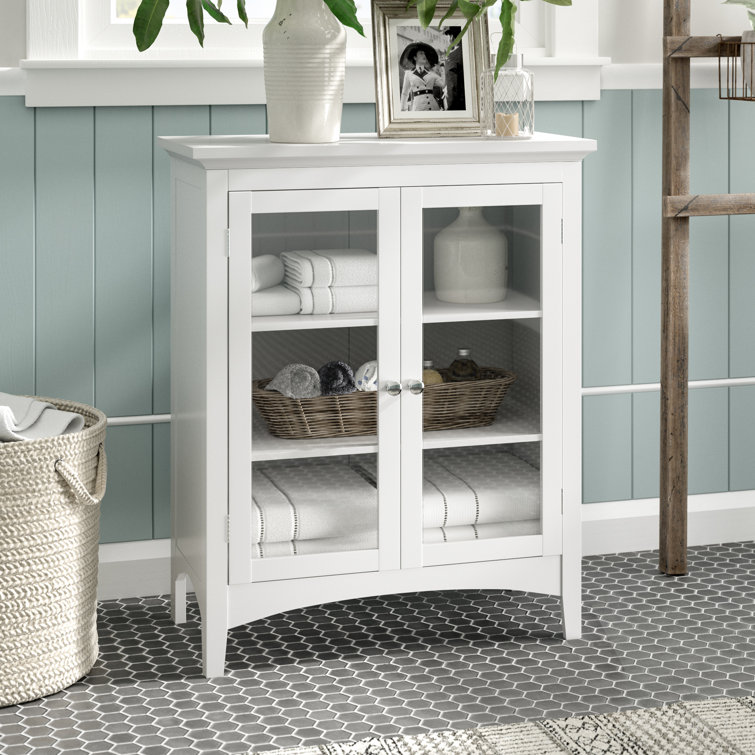 Keep your home tidy and organized with a small bookcase that features two adjustable doors and measures 32" tall and 26" wide. The two doors accent cabinet is versatile and offers spacious storage that holds a lot of items without breaking. You can use it as a kitchen shelf to organize your canned jams, sauces, and pickles, or in the bathroom to display your extra towels, blow dryer, paper products, and other items. Plus it supports and fits a 32-inch Tv at the top with a bottom cabinet shelf where you can hide routers, DVDs, and others accessories.
The bookcase is made from strong wood and has a fresh and clean white finish with an arched bottom skirting for a touch of flare. What's more, the sides and the surface are crafted with high-quality material that makes the bookcase smooth and clean appearance. 
Overall the bookcase features two adjustable shelves covered with glass doors and a chrome knob for a smooth touch and a beautiful appearance. Made from strong material and each shelf supports a maximum weight of 10lbs without breaking. The finish brings a coastal farmhouse feel and lastly all the instructions are included when assembling the bookcase.
Special Features and Specifications
Overall dimensions:32" H X 26" W X 13" D
Shelf weight capacity: 25lbs
Cabinet interior:26.5" H X 23" W X 11.25" D
Overall product weight: 41.5lb
All instructions and tip-over restrain devices included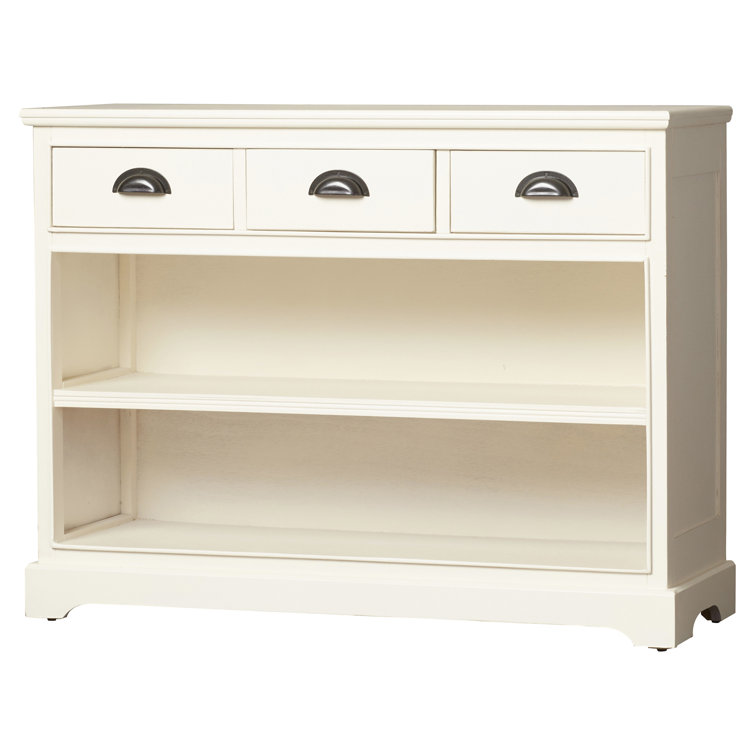 I love this bookcase, no assembly is required.
The bookcase boasts three drawers that are about 8" inches and two open shelves that hold and accommodate a lot of books, magazines DVDs, and others items.
But the height of the shelves does not accommodate a lot of books when organized vertically- place them horizontally for more room to display your items.
 The bookcase does not take up much space and fits perfectly in a limited bedroom, living room, or narrow space. The finish is off-white or creamy which is versatile and beautiful and matches well with the colors of your interior.
The bookshelf is sturdy and crafted from strong wood making it possible for the shelf to hold up to a maximum of 30 lbs with a Tv standing at the top without tipping over. 
Overall, the bookcase looks beautiful and the finish complements well with most colors of your furniture. The drawers and open shelves are spacious and accommodate a lot of items.  And lastly, the bookcase comes assembled.
Special Features and Specifications
Shelf Dimensions: 36.5″ W x 11.5″ D x 8″ H."
Interior dimensions of drawers: 11.5″ W x 11.5″ D x 4.8″ H"
Weight limit: 30lbs
Overall Dimensions: 30" H x 39.25" W x 13.75" D."
Overall weight: 48 pounds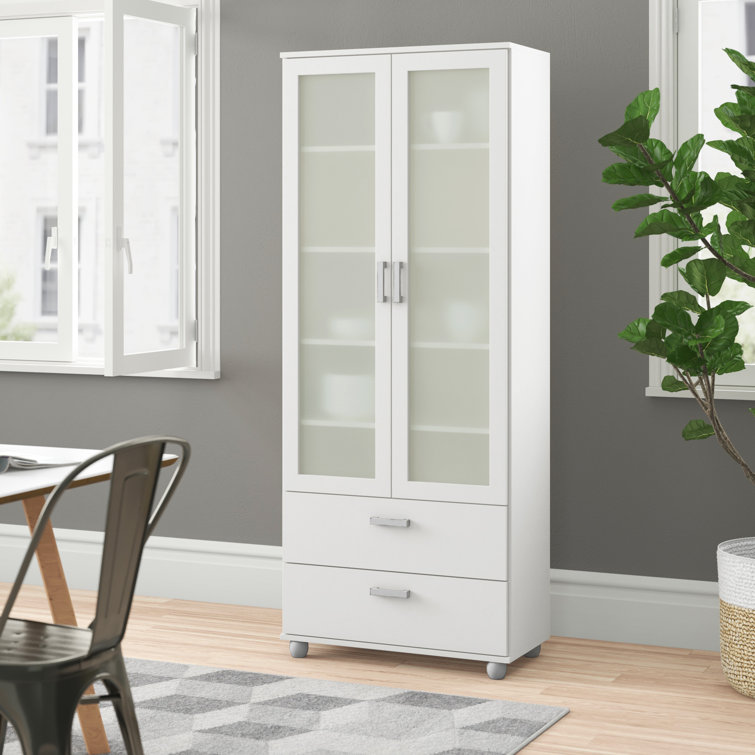 Brighten your room with a China cabinet and add a modern and contemporary style to your home. It comes with five shelves, two adjustable that easily shift up, or down, to fits your needs. The shelves are set behind two clear glass doors with panel doors for quick and easy storage. At the bottom, you get two drawers that offer ample space for folded linen, accessories, and kitchen items.
The finish is pure white and the material used is a strong wood with melamine veneer. The finish perfectly blends well with a variety of colors and the cabinet is ideal as a kitchen cabinet, bathroom storage system, living room display system, or any small room space.
Overall, the white cabinet comes with two glass doors, five spacious shelves, and two cabinets at the bottom. The design is beautiful, the finish is modern, and brings a contemporary style to any room. The material used is of high quality for the price. And lastly, the cabinet works perfectly in a small room, kitchen, living room, or bathroom.
 Special Features and Specifications
Number of Shelves 5 with two drawers 
Easy to assemble
Overall height:70.28"
Interior depth of cabinet: 14.7"
Style: Modern and Contemporary 
Color: Pure White
Material: Strong Wood