Are you a book lover and you want an ideal storage system for your books? If that sounds like you, then a tall bookshelf will be an ideal solution for you. Tall shelves provide ample space to store large collections while taking minimal space in your room. Also the perfect solution for your growing books, or a display system where you can bring a charming look by bringing to light your plants. 
The tall bookshelf not only provides you with ample space for your books collection. But you can add a  charming style and a touch of elegance to your reading room.
 In this review, we compiled unique tall bookshelves that will help you organize your books, and display plants with the most stylish, space saver tall bookshelf.
Elevate your reading while organizing your books with a multifunctional and stylish bookshelf.  The bookshelf comes with 5-tier shelves and 4 adjustable shelves that are perfect to store small, medium size, or large books when adjusted. Plus the tall bookshelf features four adjustable feet at the bottom that are smooth hence padded with plastic pads to protect your floor. 
The design looks beautiful and well thought out because the doors add a touch of elegance and style. They are strong and have double layers to protect your belongings from dust, pet and also breaking during transportation. Furthermore, the glass doors are easy and smooth to open because they are equipped with rubber bumpers and magnetic locks. Perfectly designed as a display cabinet, accent cabinet, bookshelf, utility cabinet, office, kitchen, and other creative decor ideas. Overall the bookcase is a steel cabinet with double glass, coated resistance-free materials, comes with 4  shelves with adjustable and padded legs and of course easy to assemble.
Special Features and  Specifications
Product Dimensions:12″D x 26″W x 72″H
Color: White and blue
72" inch tall
Comes with: Heavy duty metal, tempered glass, and adjustable legs.
Complement or easily find the bookcase that fits well with your decor style. The 3-tier shelf with doors from Saunder Collections has 9 ranges of styles to choose from. Perfectly designed to add an elegant look while complementing your decor styles. The bookshelf features three huge storage with ample storage suitable for organizing your books, displaying your plants, wireless speakers family photos, or only other items. Plus the bookshelf is adjustable enough to perfectly fit all sizes and shapes of books. 
The other amazing feature of this good-looking bookcase is how multifunctional it is.  It comes with a cabinet underneath where you can store the documents, larger books, or any items that you don't want to show off. In addition, the bookcase is versatile enough to bring a natural and charming look to different rooms.
Special Features and Specifications
Color: Vintage Oak, Grand Walnut, Mystic Oak, Select Cherry, Estate Black, Chalked Chestnut, White Plank, Lintel Oak, Sindoori Mango
3 shelves and storage cabinet
Total number of shelves tiers: 5
Dimensions:69.76" H x 35.27" W
Are space and tallness your deciding factor for a bookcase? Here you have it.  A bookshelf with 15 fixed shelves,  3 adjustable, 84" H X 72" W  is perfectly designed to fit well in your home, office, garage, laundry, bedroom, kitchen, or any place of your liking. Perfectly designed to accommodate a lot of items such as picture frames, vases, video games, books, magazines, and other decorative items.
The material used for craftsmanship is genuine wood and veneer with an oak or cherry finish which makes it looks natural and smooth. What's more, the assembly with dowels, cam locks, and engineered wood back panels is super easy.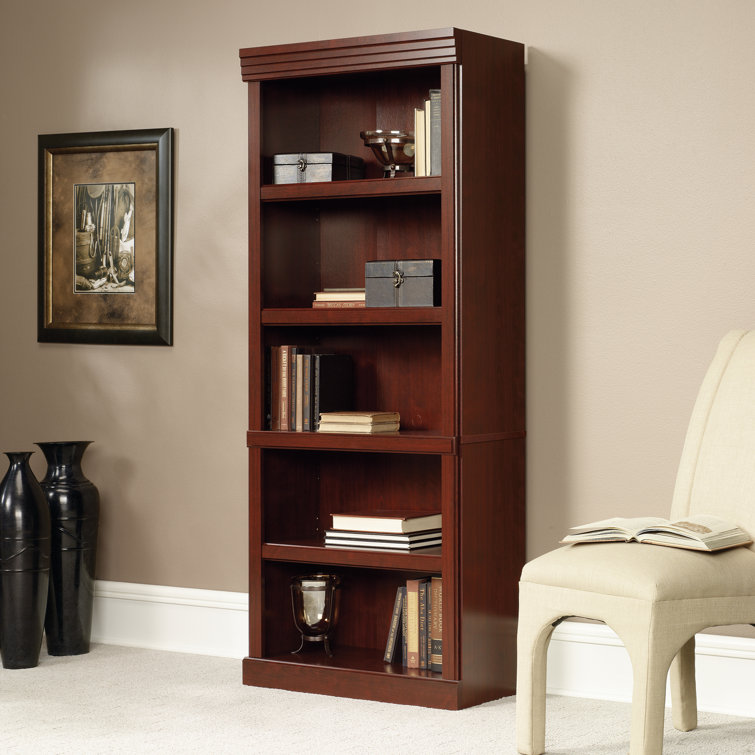 Bring a charm of glamour and beautify your room with this traditional clean-lined bookcase. Perfectly designed with strong paperboard backing and features five shelves. Three are adjustable to fits your needs while two are fixed. 
The three open shelves offer ample space and are easily customizable to perfectly showcase your favorite novels, family framed photos, or anything you are proud to display. 
The standard bookcase it's tall and narrow and allows you to make use of square footage hence cherry finish design perfectly blends with many color choices.
The tall display bookcase with 5 shelves is versatile and functional. You can opt to place it in the living room, office, bedroom, or any room place and display your collectibles, favorite books, and others. As a bonus, it includes cord access at the back panel which is ideal for convenient access to the charging cord.  
In conclusion, you will get a charming bookcase that adds a traditional style to any room. Three adjustable shelves and two fixed ones. A standard bookcase that has the latest style with beautiful color choices that complement other furniture in your room. And lastly, a  bookcase that is easy to assemble.
Features and Specifications
Materials: Manufactured wood with a paperboard backing
Bookcase with 3 adjustable shelves and 2 fixed
Bookcase with classic cherry finish
Enclosed back with cord access
Tipover resistance device included
Dimensions:71.25"H X29.75"W